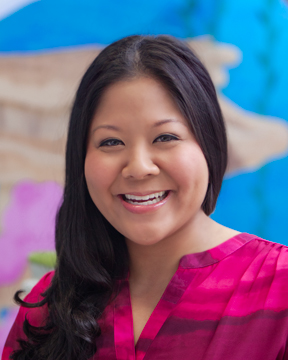 Kids can't help but relax around pediatric dentist Amy Namsupak. When she isn't making them laugh with her great sense of humor, she wins them over with her gentle heart, warm personality and love for Disney World. It's not uncommon to hear the giggles and laughter echoing down the hall at Konikoff Kids.
"I just love kids," Dr. Namsupak said. "Every single one of them. They give me energy and I learn so much from them."
Dr. Namsupak, who grew up in West Virginia, received her bachelor's in dental hygiene and a DDS from the West Virginia University School of Dentistry. She completed her residency at Case Western Reserve University School of Dental Medicine and Rainbow Babies & Children's Hospital in Cleveland. It was here that Dr. Namsupak adeptly transitioned from helping patients in the operating room and IV sedation unit one day to treating kids the next day through a Head Start program and Ronald McDonald Care Mobile.
Dr. Namsupak's goal is to help all her young patients learn how to properly take care of their teeth so they can enjoy a lifetime of excellent oral health.
In her spare time, Dr. Namsupak loves to travel to Thailand where she has family.
A self-described foodie, Dr. Namsupak also loves to cook and enjoys sharing great meals with family and friends.
Although she has a weakness for doughnuts, she only indulges occasionally – a lesson she happily shares with her young patients to encourage eating sugar in moderation.
"I love helping children learn the importance of brushing and flossing," Dr. Amy said. "When they learn that at a young age, it stays with them forever."
Her professional affiliations include American Dental Association, American Association of Pediatric Dentistry.